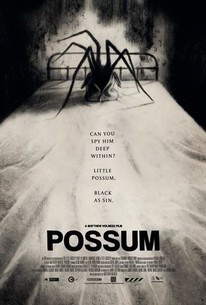 I struggled to get through Possum [2017].
Not because it was bad, but because it was too good.
I have made mention that I've recently developed a couple of triggers that make me feel anxious. This surreal drama-horror, from the mind of low-key comedy legend Matthew Holness, has both of these in spades.
It was increasingly unsettling viewing until I wasn't sure if I could handle it near the 47-minute mark. Nothing specific happens at that timestamp, but the grisly, sordid tension had folded and twisted too much into a pressure-cooking anxiety bomb  for me to go on without a quick pause. I rescind my regret for not having caught it at FrightFest.
The film has only two main characters, and one of them is a former puppeteer called Philip, played with raw, piteous, spluttering energy by Sean Harris. Philip has returned to the family home, now a filthy, dank hoarding trash heap for his lazy, hygiene-challenged uncle Maurice (a charismatically disgusting Alun Armstrong). The younger man spends most of his days trying to dispose of his big leather bowling bag and the giant, freakish puppet stuffed within. But, in true horror fashion, the puppet isn't quite having it, and so ensues a Homeward Bound-esque back and forth while Philip and Maurice play out the world's bleakest elder-younger relationship since The Greasy Strangler.
There's very little dialogue; Philip mumbles his with such a tight nervousness that he seems intent on having a heart attack. The story progression is fractured, making the scares less obvious, and Norfolk's desolate landscapes of abandoned forts and power stations provide the perfect backdrop for the film's insidious vignettes.
My advice is to go into this movie blind, but don't expect a linear, fast-paced horror. Expect some slower scenes, quiet scenes, even some repetition here and there. Think of it as a bleak psychological drama with a lot of surrealist horror elements. Hereditary knew this blend well – one of the most effective ways to draw you in during the build-up, with relatable human struggles, only to turn into a literal nightmare. If you see this, try to sleep well.
Score: 🎃🎃🎃