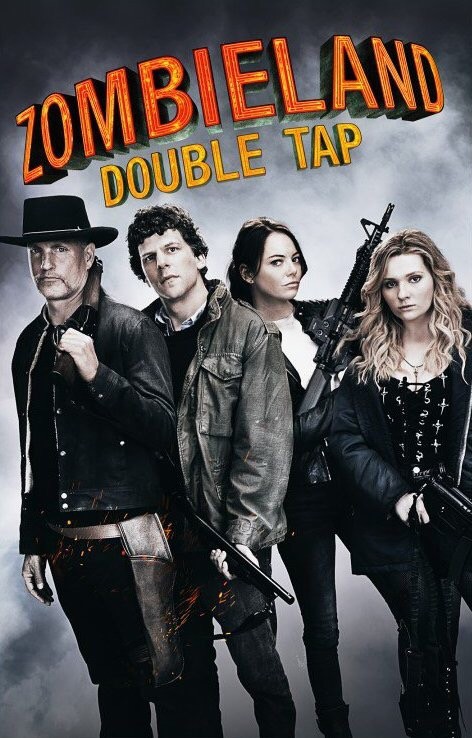 I'll get this out of the way now: Zombieland: Double Tap is absolutely worth the 10-year wait. The original Zombieland quickly became a modern cult classic in 2008, and the original quartet is back for a second run that is, in this lowly Englishwoman's opinion, better than the first. And I fucking loved the first.
Welcoming us back with Columbus (Jesse Eisenberg)'s jittery voiceover, this sequel continues its predecessor's self-awareness by acknowledging that it's indeed been a decade since and we have missed them so. And it's a comfort to see that some things haven't changed – we still have the original four including Tallahassee (Woody Harrelson), Wichita (Emma Stone), and Little Rock (Abigail Breslin). But, as shown by Little Rock's Stone-esque raspy voice and rebellious teen attitude, some things have changed. (I feel old.)
And it's she who drives the story as, fed up with apocalypse ennui as the others have mellowed into their strong family roles, she takes up with guitar-playing hippie Berkeley (Avan Jogia), much to Tallahassee's raging paternal infuriation. And so the gang give chase.
It's wonderful to see this lot back again. Not only have the cast stepped back in their legendary roles – after Oscar noms and wins, various franchises, and contrasting TV and film roles – but they're wearing these roles like a pair of comfy old shoes. It truly does feel like this group – this family – has been together for the past decade, growing, learning (or not) and looking out for each other. Even the added new characters like Madison (Zoey Deutch) have pleasantly unexpected nuances that layer their characters with endearing glee. Every character gets growth, and has the potential to be as much of favourite as each other It's so good to see them all back.
But what's refreshing is that, unlike so many other franchise sequels, this one repeats just the odd note from the original, enough to welcome us back but without treading old ground. But it also playfully makes fun of itself. We've also got some sick, slick-AF tracking shots that swing in deliciously epic arcs to show off the action set-pieces, each of which is studded with sharper humour beats thanks to the cast's improved comic timing.
A joy to watch, Double Tap more than makes up for the decade-long wait as we jump back into the Zombieland fray. And yes, you'll love the cameos.
Score: 🎃🎃🎃🎃🎃