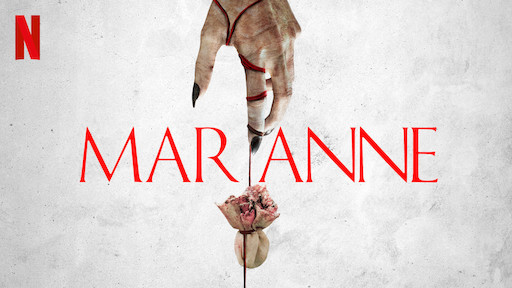 I can safely say that Marianne is the most frightening title on Netflix. Created by Samuel Bodin, this eight-episode French horror series scares the shit out of you by using the oldest genre tropes that are so insidious they will lurk in the back of your mind long after the closing credits.
Emma (Victoire du Bois) has made a name for herself as the writer of a series of horror books based on a childhood urban legend. But after a decade, she has tired of writing this character – and even the genre itself – and goes so far as to even read the book's ending ("you said to read my favourite passage") at a reading on her enormous book tour. Also, she has fucking awesome hair and gothy jewellery. We two can form a club in which neither of us cares about gender limits on punk style.
However, later on during said event, a old friend from her youth, looking haggard and terrified, drops a parcel of her own skin containing a tooth of the friend's mother, who has obsessively read Emma's novels 'ten times over' and believes herself to be the demonic spirit of the books. After a tragic event, Emma is compelled to visit her hometown, where she receives a less than warm welcome.
The show is a beautiful drip-feed of drama around burnt nostalgia, fractured family relationships, and the horrors of being blindsided as an adult when plans go awry. It expertly skips between the bleak and the terrifying, jumping from quiet lulls to haunting, shocking imagery of both everyday and supernatural origin. And it's often via the simplest, long-standing tropes that bear this through: Small, innocuous items transform into potential beasts; dreams end only to reveal they are dreams within a dream; distorted smiles, moments of disgust and perverse twists of familial relations are thrown into the mix. These are the original, basest horrors, and they will crawl under your skin and stay there.
I've only seen the first episode thus far, but the two leads – Emma and her adorably meek assistant-cum-friend (Lucie Boujenah) develop a sweet, Scooby-like sisterly bond as they try to navigate the situation in which they've found themselves, and it's the sole bright spot in the pilot's unrelenting terror ride.
Watch with the lights on, them keep them on.
Score: 🎃🎃🎃🎃🎃