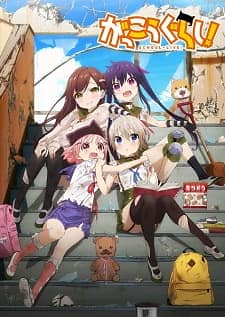 Every horror-thon I always include an anime or two. This one, SCHOOL-LIVE!(Gakkougurashi!) slipped through the cracks because, well, I was put off by its adorable set-up.
However, if you're going to watch this, or are thinking about watching this, DO NOT READ THE REST OF THIS REVIEW. Please – just go in blind. It's far more rewarding that way.
[spoilers for episode 1 after the jump]
If you're reading this, it's either because you don't care about spoilers, or you've already seen this show. Either way, you were warned.
The show follows a group of four classmates who are part of the 'School Living' after-school club, which lives on-site in school in order to gain a closer understanding of it and to cultivate their own independence, as a model for other students. The quartet are standard moe fare: the ditzy one, the tsundere one, the sunny one and the one who tries too hard. They're all stinking cute, and to top it off, there's an adorable shiba-inu puppy called Taroumaru (yes, I remembered his name) who takes up all sorts of mischief, including being able to open doors with his paw. Clever boy.
The girls' adventures are entirely based within the school, causing super-kawaii havoc and forgetfulness amid home economics classes, homeroom, and breakfast spaghetti. It's cute, silly, and some of it goes on for a bit too long, but it's typical moe fluff, and the characters are fun to watch. But, much like the group's beloved military rations snack ('tastes like survival!'), there is something else going on, and a few shots of the school grounds show that these are no ordinary school days for these girls.
The first episode of SCHOOL-LIVE! doesn't give much away until a little snippet around the mid-way mark. You think life is mostly OK for these characters, that they're making the best of their apocalyptic situation.
And then the hammer drops. And it's fucking devastating.
I've never before seen a story like this in anime and, given Japan's infamous grapple with mental health issues, it's fascinating to see how this kind of subject matter will play out. I've seen nothing but glowing reviews for this series, which has only 12 episodes, but the manga is ongoing, and is currently in its 11th volume.
Even though I've given a little bit away here, you'll still get a jaw-drop when you see it. If you can, watch it as blindly as you can.
Score: 🎃🎃🎃🎃